CT No. 21: The #1 content innovation of the 2010s is on fleek
Plus enterprise testing software and some big ideas to consider
Choose your favorite potential Content Technologist topics and help me plan for next year! (Very truly: it would be a huge help if you completed this survey!)
And if you haven't yet, check out the newly launched, structured web home of The Content Technologist.
---
The most innovative content formats of the 2010s: Part 2
Last week's newsletter introduced six content innovations that defined the past decade; this week we'll complete that list.
6. The Pinboard
If you've gotten married, had a baby, decorated a home or entertained guests in the past decade, it's likely you've used the Pinboard.
The real brilliance of Pinterest lies in its understanding of a completely different form of human browsing behavior that has almost nothing to do with digital social interaction and everything to do with translating digital ideas — and online commodity fetishism — to the real world. Pinterest found a digital way to represent that nesting behavior, rewarding saving, hoarding, collecting, keeping the gems in the digital rough.
A list of links fails visual thinkers, and not everyone wants to get lost in a website to find their one idea. It's far easier to extract that single perfect visual in the massive Martha Stewart oeuvre and save it for later. Some people say that Google and Facebook brought about the death of ad-based print. I'd argue Pinterest did far more damage to the content of "aspirational" and "lifestyle" print publications, which could only reflect but not represent mass taste. With Pinterest, users could blend the DIY with the affluent in a single aesthetic collection, all at once. Magazine readers didn't have to wait for the fall issue publication to get a head start on fall decorating trends. With Pinterest the aspirational didn't have to be so out of reach or astounding as it did in print — which, for millennials at their brokest in the wake of the recession, reflected the real world far better than magazines.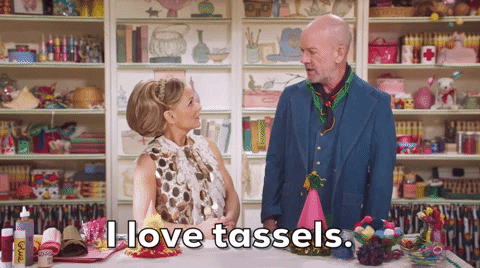 Crafty Gen Xers like Amy Sedaris and Michael Stipe love Pinterest too.
The blocky, modular Pinboard changed web content design worked. It inspired people to try to build their "own" vision of the world, brilliantly or messily.
5. The open graph tag
"What does 'og' mean?" every content manager set out to discover at some point in their initiation. OG has nothing to do with 90s rap and everything to do with ensuring your link autopopulates correctly on Facebook.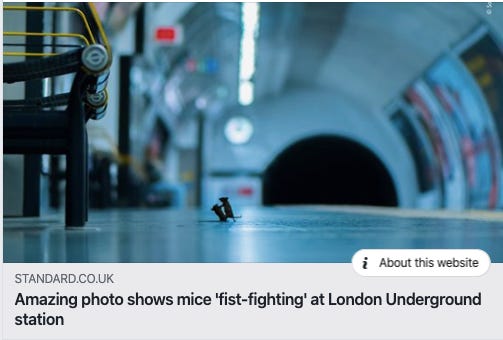 Back in the old days of 2009-2013 or so, you used to have to attach your own context when you shared a Facebook link. Like, you had to actually read the page and then write something to your friends that reflected your understanding of the content. Technically, as an individual, you could misrepresent the page or go off brand. Luckily, intrepid publishers embraced the social open graph data, metadata attached to a webpage that would help content creators control their vision of content on social channels.
With the open graph tag, website owners could specify the exact context and visualization of how they wanted their content to appear on Facebook. And publishers definitely used the open graph tag as it was intended, to give users a clear explanation of what they would find on a specific web page.

Just kidding: no one did that. Most publishers modified Facebook open graph tags to optimize for the clickthrough.
Did open graphs change digital content for the better? Clearly my opinion isn't sunny. But they standardized how links were perceived across social media.
4. The featured snippet
In the same vein, let us celebrate the featured snippet, that "quick answer" that appears on the top of Google results and provides easy solutions for those in a hurry or utterly lacking curiosity.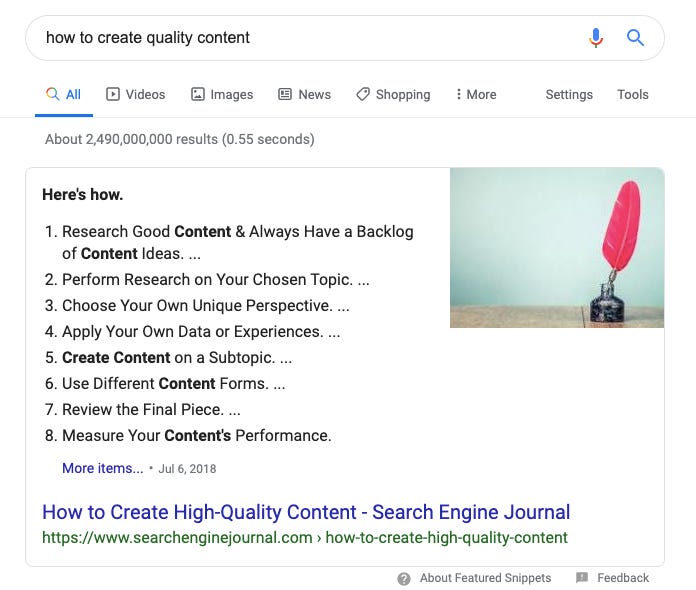 Creating quality content is just that easy. Definitely just eight easy steps.
Featured snippets assign authority and prominence to well-optimized easy-to-scan lists. Google's intent in using featured snippets is to encourage users to remain on the search results page so they can see more ads. The idea of featured snippets, for me anyway, goes against the entire idea of the Google search engine, which is to present the complexity of information in an organized fashion. Featured snippets simplify.
I recently witnessed someone in an airport Google a medical question, read the featured snippet to their partner, take that answer as absolute truth, and move on to the next part of the conversation. Google Home and other in-home assistants do the same thing, providing one single answer to complex questions.
Regardless of how you feel about featured snippets, they've absolutely changed web content behavior for consumers and businesses. Your SEO team is probably optimizing for snippets right now.
3. The video game livestream
I can't explain this one to you because I don't understand it. I don't! It makes me feel very Clint Eastwood out of touch. I have never spent more than about 30 seconds watching a gaming livestream. When I was a kid I watched my siblings and friends play video games, and I was always bored. I love many video games, but watching someone else play them is… unrewarding.
Other people don't think so, and so I'll keep my eyes on what they like and why.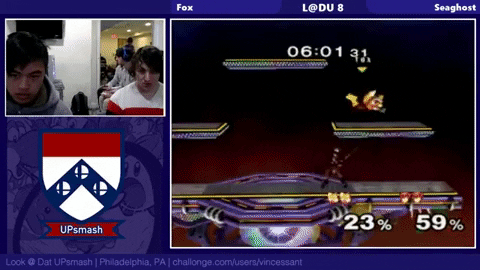 I might not be into watching others play games but can't deny it's more than a trend, it's massively influential, and it's changing the way we consume content. They call it "esports" now. Electronic sports. Cool! I'm glad people are into it. I guess the CEO of FaZe Clan, a massively popular esports league, says, "There's nothing a young male cares about more than gaming. It's gaming first, and the distant second is oxygen." Our culture has been optimizing toward young men's taste for generations, so I'd better learn more about this hugely influential content movement. Yes, Twitch is the new MTV.
2. The Snapchat story
Let's be clear: even if you have never used Snapchat, they had more influence on the content consumption behavior of the past decade than any innovation at Facebook. Facebook took all of Snapchat's good innovations and co-opted them in the most vicious corporate style imaginable. Here's what they took for Instagram:
Temporary, vertical stories

Small groups and "close friends"

Fun AR masks

Text overlay and commentary

Polling and stickers and gifs and more
They left Bitmoji for the snappers, wisely.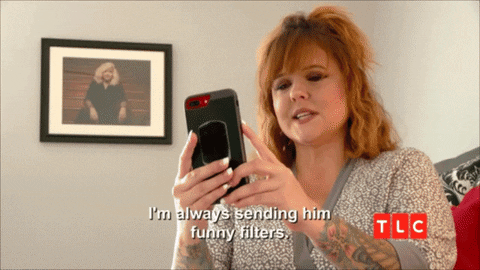 In their early days, Snapchat (now Snap) recognized that more people will use digital communication tools more if the effects are perceived to be temporary. Hence, disappearing content. Hence, closed networks. Snapchat always laser focused on moments rather than memories.
And Snapchat realized that people were cool with using themselves — their true selves, or selves looking like a silly puppy dog, or selves in small groups — as the core content. People are generally cool with sharing themselves when they perceive they can control the audience. Without Snapchat, Instagram wouldn't be where it is now. Without Snapchat, we'd have no TikTok, who brought the format to a new level.
And with that, the number one content format that defined our decade…
1. The looping video
As a teenager I attended a Flaming Lips concert at the Greek Theater in LA. It was part of the Unlimited Sunshine tour, where the Flaming Lips joined a number of rising indie bands and promoted their Yoshimi Battles the Pink Robots record. To appeal to audiences who might not yet know their specific brand of weird, the Lips covered the contemporary hit "Can't Get You Out of My Head" by Kylie Minogue, only their version droned more. Projected behind Wayne Coyne & company was a video on loop: a naked woman throwing a Frisbee over and over again.
Now, this was a Flaming Lips concert, the end of an all-day thing, so the audience was in varied and sundry states of altered awareness. Me, I'd been drinking rum and vanilla coke from a plastic bottle all day, but all I remember: that naked frisbee lady was fascinating. I could have watched her for hours.
I wonder if Dom Hofmann, Rus Yusupov or Colin Kroll, the founders of Vine, were in the audience. Probably not. They probably just saw the rise of high-quality gifs in the early 2000s and realized the potential for users to make their own versions of gifs.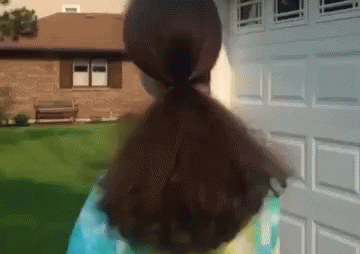 Vine's not around anymore, but the looping video they propelled into popularity is the foundation of comedy, of most Instagram content, of all TikTok content.
We've known for a long time that movement on repeat is mesmerizing — the news has always known that. Whether you grew up analyzing the Zapruder film or shocked into submission on September 11, 2001, you've long known that tiny moments provide hours of thought, of obsessive textual analysis, of deep consideration of intentional and unintentional news. Cable and tv news taught us that looping videos were dangerous and traumatic — an idea amplified this decade with the rise of Black Lives Matter and the global refugee crisis. Some videos we watch on loop to understand the horrific consequences of our actions.
What Vine, Instagram's Boomerang, Snapchat & TikTok accomplished was normalizing the loop. The repeated action — in a row, over and over, ad nauseam — becomes a means for amplifying the content. Audio helps, although it's not always necessary, as in the case of gifs. For comedy, loops are a running gag without having to write more than one joke. For everything else, looping videos are a way to dive into the absurdity and human delight of our actions.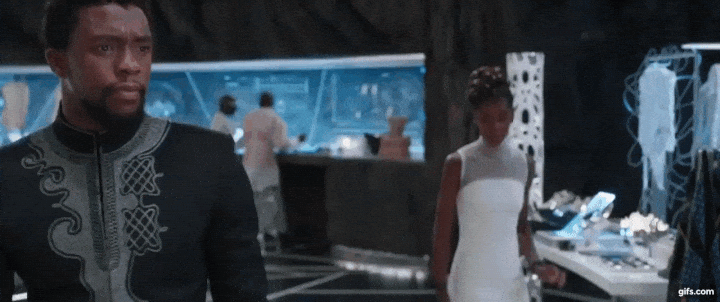 There's that misattributed Einstein quotation about the definition of insanity as doing the same thing over and over again. The popularity of the loop shows us our comfort with that kind of insanity. A loop is proof that something happened with the absurd reaction caught in real time.
Until the video is deepfaked, I guess.
---
Do you have thoughts about decade-defining content types? Just want to say hi? There is a comments section on Substack for subscribers if you click through to the post.
Like this post and want to share? Howdy doody here's a button:
---
An enterprise platform for obsessive content and design testing: VWO review
How do you solve creative arguments in digital content? How do you tell whether you should take the cheekier option or just tell it like it is for a subject line? Well, you can refer to infinite past studies of digital content behavior that may have direct relation to your industry and time and place. Or you can A/B test your own content to see what works. I recommend testing as a sound way to settle content arguments. This process, known in marketing as Conversion Rate Optimization or CRO, is scientific-ish.
Nifty Javascript A/B testing tools like Optimizely and Google Optimize have been on the market for about five years, allowing savvy brands with in-house coders to run extensive design tests, with their audience never noticing that they were part of a test group.*
VWO — which stands for Visual Website Optimizer — makes the process of A/B testing website and app content fairly simple, providing easy WYSIWYG solutions for many visual website changes.
*Let's talk ethics!
If you are running any kind of A/B testing or personalization on your website — or your clients' website — please ensure that it clearly stated in your privacy policy, TOS and those popups asking for consent that are actually supposed to serve a purpose. As with all scientific ethics in the twentieth century: you need to tell people when they're being tested. You need to be responsible and tell your clients that they are testing their customers!
VWO at a glance
VWO's interface is one of the simplest I've worked with for A/B testing, which is actually not a simple process. The cloud-based software makes it easy to make on-page changes for desktop and mobile settings, set up goals and user funnels, and view session recordings to see how users interact with your website. Defining audience segments for your test is required to set up a test— you can specify organic or paid, mobile or desktop, or just gather information for all webstie traffic. Some other features offers VWO:
Heatmaps, clickmaps and session recordings, so you don't need a supplementary UX tool like Hotjar or Crazy Egg

Tracking for different types of forms on your website

Multivariate testing

Personalization for specific audiences*

Testing of push notifications, if that's your jam

Surveys!

Managed services, in case you don't really want to do the testing yourself
With clearly labeled on-page sections like "hypothesis" and "observations" alongside testing, VWO generally encourages best practices in content testing. Which is great, because with CRO, many marketing folks forget what they learned in social science classes: you should create a hypothesis and goal for all tests.
For the unfamiliar, conversion rate optimization should be a gradual process of testing big design changes (like whole templates that are drastically different) first. Only then should you narrowing down messaging, tiny color changes, etc.. However, if you just want to test the text on a CTA button, you can do that too, if you're willing to wait for statistically significant results.
*That said: All javascript-based CRO tools only capture a fraction of your users' data, and as cookie-based marketing becomes increasingly gauche, CRO testers may fall out of popularity. Do you need CRO to have good marketing results? No. But it can be helpful at seeing which specific actions drive conversions.
Also once more: please make your users aware that you are adding personalization or UX testing, including how you use their data. Tools like VWO collect a
large
amount of personal behavioral data!
---
Content tech news of the week
I didn't read a lot of content tech news last week, and I'm still catching up on whatever happened with Twitter yesterday. Here's what I paid attention to instead:
---
Did you like this issue? Feel free to press the Heart button and then
---
Visit The Content Technologist! About. Ethics. Features Legend. Pricing Legend.