CT No.15: Things that scare me
The troubling digital media landscape and a spectre of a CMS review
The plane did not have working wifi and I have plans in an hour, so we are largely gif-free this week.
Follow The Content Technologist on Twitter. And if you're not already a subscriber…
---
It's Halloween, so let's talk about what scares me this week.
I fear private equity firms and venture capitalists who rightly think that there is good business in media, but who think that is a game of margin-shifting, tweaking algorithms and P&Ls. The good business remains a combination of unique work — actual work of translating thoughts into content that challenges and entertains and illuminates — and listening to an audience.
I fear publishers and media owners who don't understand digital networks and websites work. I fear that when they claim to be listening "objectively" to "both sides," they have not actually listened to anybody.
I fear that legacy media still somehow feels entitled to an audience. (Via A Media Operator, which I just realized quoted from my impassioned reply in his follow-up post that I haven't had time to read fully but will tomorrow.)
I fear rich men who buy media companies with the "honor and glory" aspect and "public service in mind and then believe that they won't ru(i)n media companies in their own self-interest. Have they not seen Citizen Kane? It's still a decent point of reference even though it was made nearly 100 years ago. (Link from NiemanLab)
I fear those who think that Donald Trump is the biggest threat to news organizations. He is not. (Link from The New Republic)
I fear legacy publishers who valorize the "glory and honor" of journalism without making room in their business models to pay creators a competitive wage.
I fear that the ad-supported business model was never sustainable to begin with, especially since people hate the soulless context of most ads.
I fear media companies — legacy, tech, platforms, what have you— have learned little from the 2016 election. I know they never took accountability, blaming the entirety on Russia or Facebook.
I fear news companies giving Facebook the benefit of the doubt when it's in bed with NewsCorp and Breitbart and giving politicians carte blanche to distribute lies.
I fear the people who blame the technology and not the power structures.
I fear zombies. (via The Ringer)
I do not fear there will never be another Splinter or another Gawker or another Deadspin, but it may be. They have viable models. (via the late Hmm Daily)
I cheer that employees of companies that make morally repugnant decisions speak out. (links from Vice, Axios)
I cheer mutiny and hope those writers all find new jobs quickly. (WaPo)
---
A phantom that may be the next big indie publisher CMS
NB: The plural of CMS is CMS and that is that.
In June, gung ho about getting my marketing ducks aligned, I wrote about reviewing content management systems — and then I made a hard left into paying gigs that left no time for casual exploration and brand development. A month ago I imagined that I'd pay someone to build a Wordpress or Craft CMS site, since I lost interest in building my own WordPress sites a few years ago.
But sometimes there's a tool — and I'm talking about Ghost, here. Sometimes there's a tool, well, it's the tool for its time and place. It fits right there. And right now, for me, that's the Ghost CMS.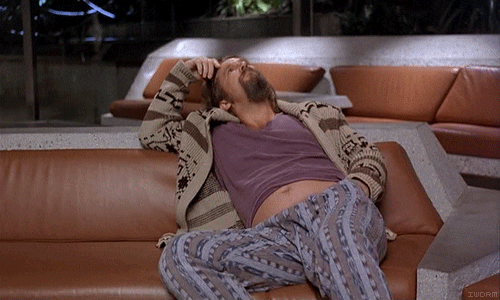 I tested Ghost while watching The Big Lebowski for the umpteenth time and it was a good pairing.
Released in 2013, Ghost is an open-source content management system. Ghost 3.0 was just released last week, with many snazzy new features. It is clearly inspired by the very best features of Wordpress, the posts and the pages clearly labeled and easily managed by non-technical users. And like most CMS updated in the last 3-4 years, the editor borrows from the Medium experience: the writing interface is basic, bold, focused. No clunky extras.
But Ghost runs as if Wordpress has shed its earthly body. Ghost has no added bulk, no added mundane baggage, no effing plugins. There is no need for Yoast on Ghost, as basic SEO concepts (titles, metas, redirects, canonicals) are built into the system. Users are encouraged to build Zapier connections for common tools.
And Ghost has Dark Mode.
Ghost at a glance

Like WordPress or Squarespace, Ghost offers a variety of free and premium themes easily installed within the CMS. Unlike Wordpress or Squarespace, users need to know some code if they want to customize those themes. I am just making a few tweaks to colors in the CSS files, but if you actually want to customize your Ghost theme (or just make your own), I recommend hiring a front-end developer.
Jeepers creepers, the writing and management experience in Ghost is slick! The CMS comes pre-loaded with a set of seven instructive blog posts that point users to tool features. For those used to working in other CMS, those blog posts highlight the nuances of the Ghost back-end while demonstrating what content looks like. Those posts disappear once you actively choose to delete the Ghost author from the site.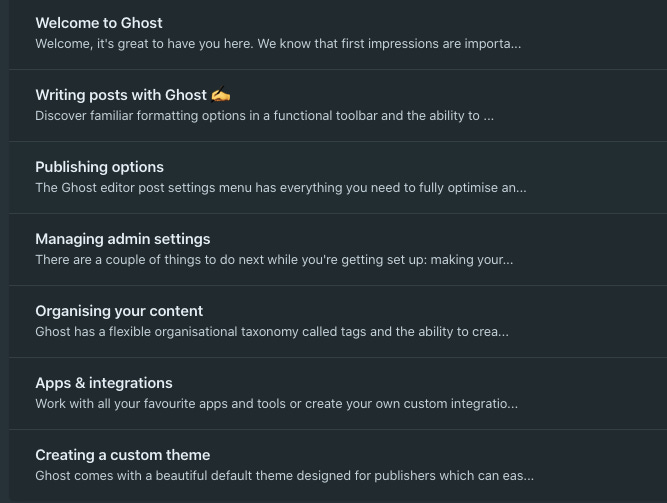 Some other writing features:
Do you like to write on the go? Frightened your plane's wifi will break and you won't be able to write? Ghost has desktop and mobile apps! Hooray!

Ghost automatically canonicalizes your content, which is important to those of us who know what that is.

The CMS is very clearly labeled for those of us who aren't as technically inclined
The tagging system is delightfully elastic, far better than any structured hierarchy. Posts aren't confined to unnecessarily rigid folders or categories. If you tag a post eight times, it shows up in all of those feeds... unless you use a Hidden tag, in which case it's still categorized that way, but users aren't going to find the tag. Hidden tags are glorious for those of us who like to stay organized but not bog down users with the paradox of choice.
Oh yeah, and the whole reason I'm even looking at Ghost to begin with: it's designed to build membership-focused publications and subscriptions.
Ghost is not for n00bs! It's low code, but not no code. It's best for people who know enough to explain to their mother how digital content management works, who know a little bit of code and who aren't afraid to play around a little to personalize to their liking. And if you want to do anything other than build a membership-oriented publication, it's probably not for you!
The CMS itself is free, but if you want to host on Ghost's managed hosting services, you'll pay a small monthly fee. It's worth it for the site speed and the ease.
What Ghost brought back for me was the thrill and delight of creating a website from scratch. I ooohed and aaahed for an hour before I ran into my first real roadblock. It has enough features that I don't have to do more than brush up on my (v poor) CSS, but it gives me the flexibility to design content departments within a few basic templates.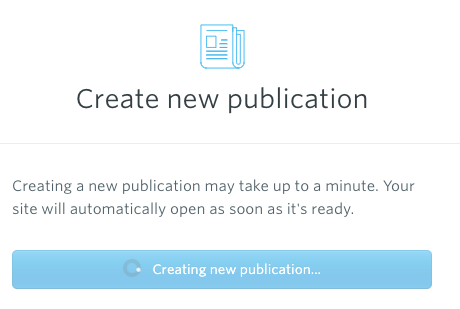 That graphic makes me all tingly again just looking at it…
Ghost made me feel like a teenager again. It gave me hope in the delight of the internet during a week when my digital media world brought me very few glimmers of hope.
---
The news links this week are all above, so I'm going to skedaddle to enjoy Halloween in New York.
---
Upcoming speaking and events
Making my 2020 speaking calendar! I'm available to present at your event. I promise it'll be fun. Here's everything on the docket so far.
"Customizing Your Content Tool Stack for Your Team" at ContentTECH, April 20-22, 2020 in San Diego.
Yeh, it's just the one, but I anticipate more soon.
---
Housekeeping | If you like this post, please click the heart, which is Substack's ranking factor.
Not yet a subscriber?